( yeah, Chicago isn't Gotham - But it's where they film the new Batman movies)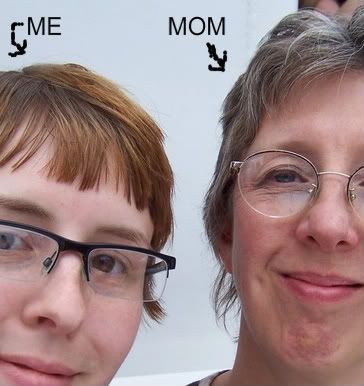 This week end my Mother and I attended the 2008 Green Festival in Chicago.
( http://www.greenfestivals.org/content/view/230/200/ )
Now I would like to point out right away that YES – I do see and understand a certain level of inherent hypocrisy in Driving 750 miles round trip to go to a Green Festival. I know – not very Carbon Foot Print friendly. I get it, please DO NOT post back with some lecture, I know I know I know. But on the good side of things – we stayed in the outer suburbs and took the METRA in to town. So there.
That being said, We had a great time. There was an amazing amount of vendors and attendees. We didn't even need to eat lunch on Saturday because of the wonderful - and down right overwhelming amount of food vendors there to show off their amazing selection of vegan, vegetarian, organic, and sustainable foodstuffs. Everything from Free Trade Coffee, to Vegan Bakery and Sweetshops. All I can say is YUM!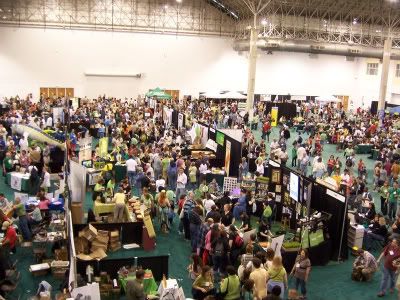 We are planning on renovating the family home, and figure that if we are going to need to take out a bank loan to do it, we might as well try to do it as "green" as possible. So this weekend was justified as "Research and Development".
There was an impressive turn out of businesses selling their services in this field. Unfortunately – they are all in the Chicago area, and the presence of general manufacturers or renovation assistance groups could be at best described as wanting.
I was hoping to find a group or some such that specialized in getting general info out to the public on green renovation, perhaps with a directory of businesses within each state that offered green services – no such luck.
One thing that I thought was a bit odd, funny even – was the amount of businesses selling sustainable redecorating materials and goods. See, call me crazy, but I would think the green thing to do – would be to NOT get new cabinets, but to settle for your old ones, and just resurface them. I can understand if you are building your own home – PLEASE by all means build as green as you can, But if you are trashing old stuff for new "Sustainable" green stuff – you are officially a retard- congratulations you haven't helped the world at all.
There were a lot of great presenters there as well, one of whom I was lucky enough to take in was Greg Palast. ( http://www.gregpalast.com/ ) You may be familiar with the work he has done with the UK newspaper the Guardian on vote manipulation during the last two presidential election cycles. He is working on looking into ways certain groups may be looking to discredit the votes of certain citizens this election cycle as well. I picked up the new DVD he has on it (any one who wants to barrow it is free to). Here is a pic of me getting the DVD signed.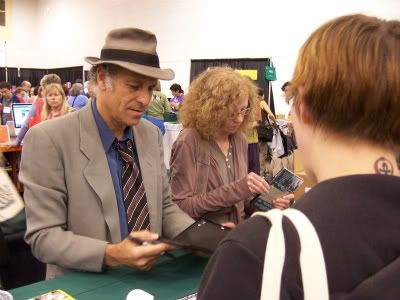 In other news;
All last month we had a film Crew up here in the Sticks of Wisconsin filming the new movie "Public Enemies" ( http://www.imdb.com/title/tt1152836/ ).
It was very exciting, and VERY good for our regional economy. I personally thank every member of the film crew that went shopping in out little town.
And because things like this DO NOT happen here all the time, I hung out by the film set a couple of nights just to watch the un-excitement. They were shooting at an old Lodge called Little Bohemia, which is set pretty far back in the woods, but it was cool just to see the extras in costume, the trucks and trailers, and the REALLY big boom light rig they had out by the road.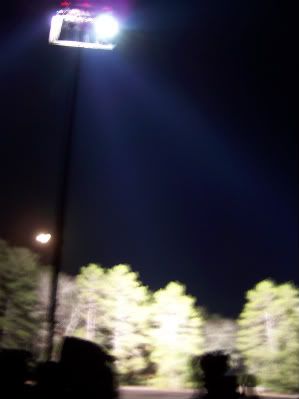 And I got to meet Christian Bale.
That was pretty fucking cool, I mean he's BATMAN!!!.
Here he is signing my copy of "The Prestige".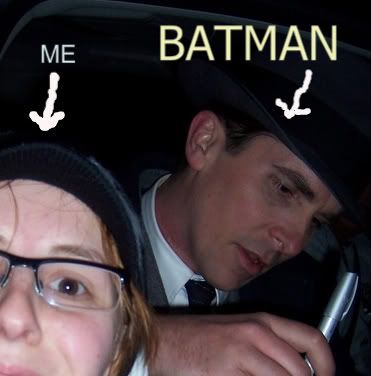 I promised I would have some sketches up here soon. I WILL get some up, but it has been crazy busy, so forgive me.
And here are some shots of my super cute puppy Goldie;